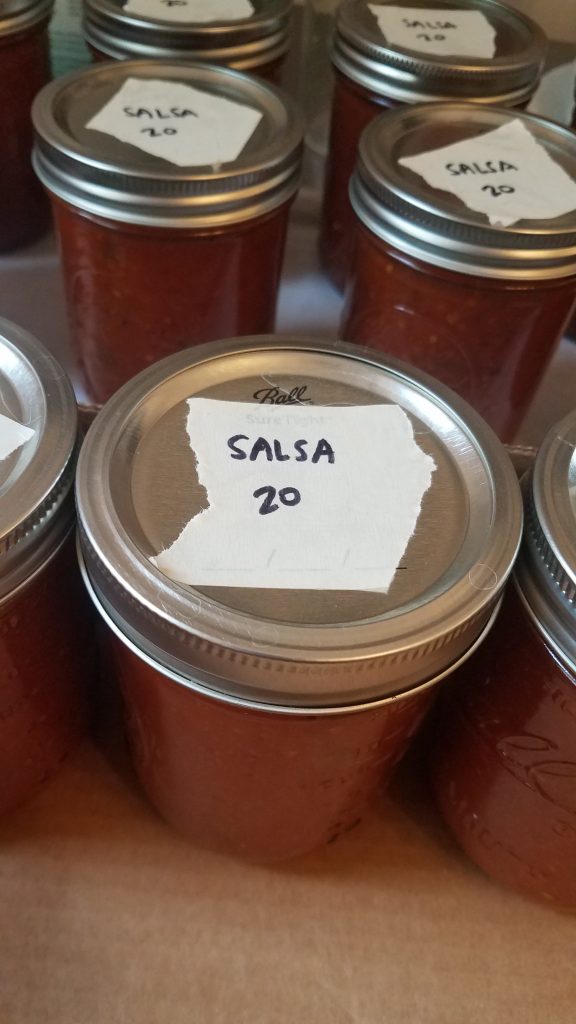 For the past three days I've been picking and saving tomatoes so that I could do a large batch of fire roasted salsa.
Today was that day. It began with picking and washing tomatoes of all shapes, types and colors. We've got paste tomatoes, heirloom tomatoes, cherry tomatoes, pear tomatoes, striped tomatoes and that about it.
Then I put the tomatoes in a single layer on a baking sheet with parchment paper. The tomatoes roasted in a 450 F degree oven, then I blasted them with the broiler to blacken and blister their skins. This is the secret to the sauce.
I got 12 pints today. My family can easily inhale a pint of salsa as a pre-dinner snack, so 12 pints is less than 2 weeks worth of salsa. Kind of weak, but I'm happy that we canned our own homemade salsa this year. It may not fill our family's yearly salsa needs 100% but it's a step toward self sufficiency, and that's what matters.
Next year, though, my salsa ambitions are going to scare you. Who wouldn't love knowing that they have access to a fresh new jar of organic, home grown, home processed fire-roasted salsa 365 days of the year. At 12 jars per canning session, that's a lotta math and a whole lot more tomatoes.
365 divided by 12 pints = about 30 days
This means that for the entire month of August, I'd have to can a dozen jars of salsa every day.